This storytelling ESL activity lets students practice new vocabulary by creating stories in small groups. Students can use vocabulary from their course book to improve their speaking skills while producing a unique story of their own. The activity is appropriate for all ages and levels.
Student Level: Beginner, Intermediate, Advanced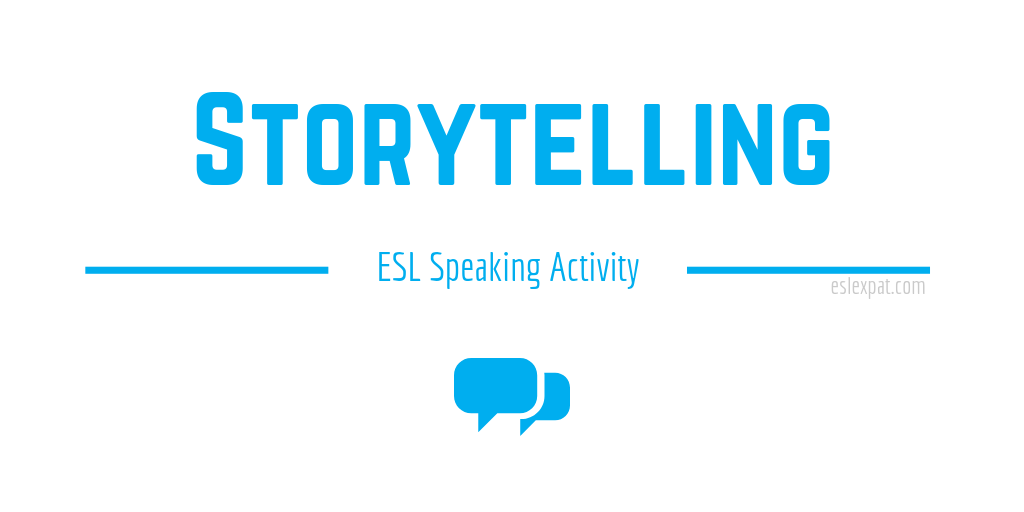 Storytelling ESL Activity Preparation:
Create a list of vocabulary from your course textbook. Make sure to include a variety of nouns, verbs, adjectives, and adverbs.
You may also want to print and cut out the words individually on paper. Alternatively, you could use an app or website to generate the words if your classroom has a smartboard or a large screen.
Storytelling ESL Activity Guidelines:
To begin, model the activity.
Write five nouns on the board along with a few verbs, adjectives, and adverbs. Remember to use words from your course textbook or other target vocabulary. Elicit some words as well to get the class engaged.
For example, you could write the following five nouns on the board:
medication
elevator
illustration
Moscow
fashion
Now, tell a short story using all of the nouns (and other key vocabulary) so that the students understand the task.
Sally Sawaski was determined to succeed. She worked all summer as a waitress because she really wanted to travel to Moscow. She had a deep adoration for Russian fashion. Working hard as a waitress, she was able to save up enough money to pursue her dream. In the fall, Sally quit her job and booked a cheap flight on Aeroflot. It was a quick flight. However, when her plane landed in Moscow, she realized that she had forgotten her carry-on luggage in the elevator at the airport in her hometown. The bag contained all of her medication. Unfortunately, she was unable to function without her pills. Consequently, she booked the next flight back and never got to see any of Moscow. In the end, Sally eventually arrived home, got her bag, took her meds, and looked at illustrations of Russian dresses online with a box of tissues by her bedside.
You could check off the words on the board as you mention them in the story.
This storytelling example would be for a more advanced level. Hence, customize the level of difficulty to match your students' abilities. Make simple sentences and basic grammatical structures for beginners. Likewise, introduce more complex structures for intermediate levels etc.
After highlighting the example story, put the students into small groups.
If you have cut up the words onto pieces of paper, give each group a set of random words from your vocabulary list. Alternatively, assign the words to each group on the smartboard or classroom screen.
Tell the groups that they should come up with a short story using the words. They can outline their stories on paper, then practice telling the story with their group partners. Give them approximately 10 minutes to complete the task. Adjust the task time accordingly.
Finally, students present their stories to the entire class. The groups can assign one group member to tell the story or they can each present sections of the story sequentially.
Give feedback at the end of each group's story and correct any mistakes worth noting.
Follow-Up ESL Activities:
If time permits, try reviewing some of the key vocabulary by playing a game.
The Alibi ESL Game is great for describing characters and people. Also, check out BINGO and Apples to Apples for some extra fun to end the lesson.
More ESL Speaking Activities for Kids and Adults:
View the speaking activities archive.
Related ESL Resources Online: