Survey Topics and Themes
Participate in all of our latest polls, questionnaires, and surveys about teaching English abroad.
The main survey topics explore the advantages and disadvantages of teaching English in specific countries.
Secondary themes will focus on other subjects, such as:
travel tips
food preferences
opinions about nightlife
dating in other countries
and other informative topics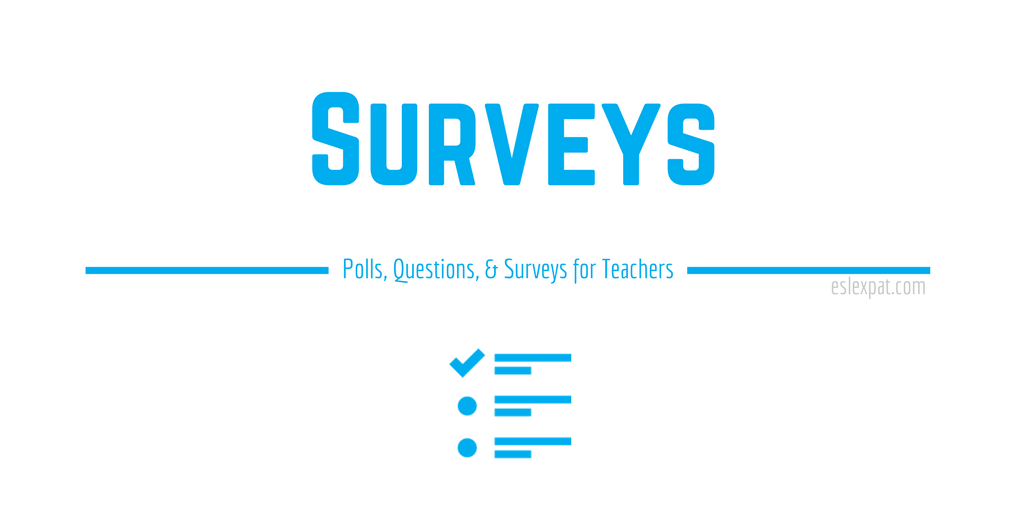 Free Surveys for Teachers and Travelers
Are you interested in teaching English abroad but can't decide where to go?
You could discover your answer here.
These free surveys compare the benefits of teaching and living in different countries. After completing a survey, the results should help you make a better decision about where to go.
9 Survey Questions
Each survey consists of 9 quick multiple choice questions.
Browse Surveys by Country
*Updated: December 31, 2018
Below is a comprehensive list of our surveys for each country.
Select a country that you are interested in and compare it to other locations.
Surveys for Countries in East Asia

China

Japan

South Korea

Taiwan
Surveys for Countries in Southeast Asia

Thailand

Vietnam

Cambodia

Laos

Myanmar
More country comparisons and surveys are coming soon!
Want to know when we've added new surveys?
Follow us on social media.
Connect on our other social media services.
Have a suggestion for a future survey?
Please leave a comment at the bottom of this page.
Links and Resources for Teaching English as a Second Language
Click here to view more resources for teachers and students.