Are you teaching students who are preparing for job interviews? This is a very practical job interview ESL activity that will make them more confident answering questions that they are likely to encounter.
Student Level: Intermediate, Advanced
Age Group: Adults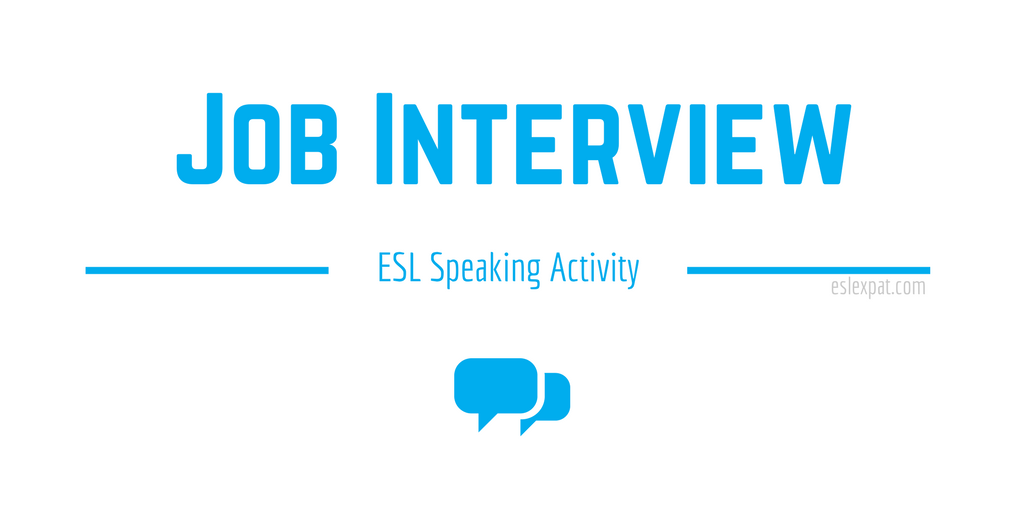 Job Interview ESL Activity Preparation:
Prepare a list of questions that students are likely to be asked in the job interview. It may depend on the type of job that they are applying for. Customize the questions and vocabulary based on the students' needs.
If they are applying for various jobs in different contexts, it may be more difficult so you may need to prepare more in advance. However, many common interview questions are likely to overlap. Therefore, having a majority of "general" questions would be quite helpful too.
Job Interview ESL Activity Guidelines:
To start, ask the class what types of questions that they expect to be asked in a job interview. Elicit some answers and board the questions. Get the students to brainstorm other questions in groups for a few minutes.
When the groups have completed their brainstorming session, elicit their answers. Board the remaining questions that they came up with.
If you want, have the students ask you some of the questions. Model appropriate answers for them as a guideline to follow. Then, perhaps highlight some frequently used vocabulary in different responses.
Next, hand out the list of interview questions that you prepared. The students can use the list of questions along with the questions on the board that you wrote.
In pairs, the students can practice interviewing each other. Try to match the students so that they are being interviewed for the same jobs. For instance, some could be doing job interviews for waiter positions, office workers, or other more specific careers. It will likely vary depend on your context and what your students are learning English for.
Monitor students as they talk with their partners. Encourage them to speak in full sentences and use the vocabulary that you highlighted. Furthermore, keep note of any frequent grammatical errors that they make. You could either correct them as they speak or give the entire class feedback on the errors that you noticed.
After the first round of interviews, lead additional feedback and have the students rotate. Make sure that everyone has a chance to be both the interviewer and interviewee. If there is time, they could change partners for additional practice.
Complete the last round of interviews and finish up the lesson.
Follow-Up ESL Activities:
As an extension to the activity, you could show the class some authentic video of interviews on YouTube. The Movie Dialog ESL Activity is a fun way to listen for key vocabulary from movie scenes.
Also, check out the list of common idioms and phrases for some expressions that could be used in job interviews.
More ESL Speaking Activities for Kids and Adults:
View the speaking activities archive.
Related ESL Resources Online: