This ESL writing activity is an adaptation of the Three-Word Stories game from The Tonight Show with Jimmy Fallon. The aim of the activity is to create stories by collaborating with classmates using three words at a time.
Student Level: Beginner, Intermediate, Advanced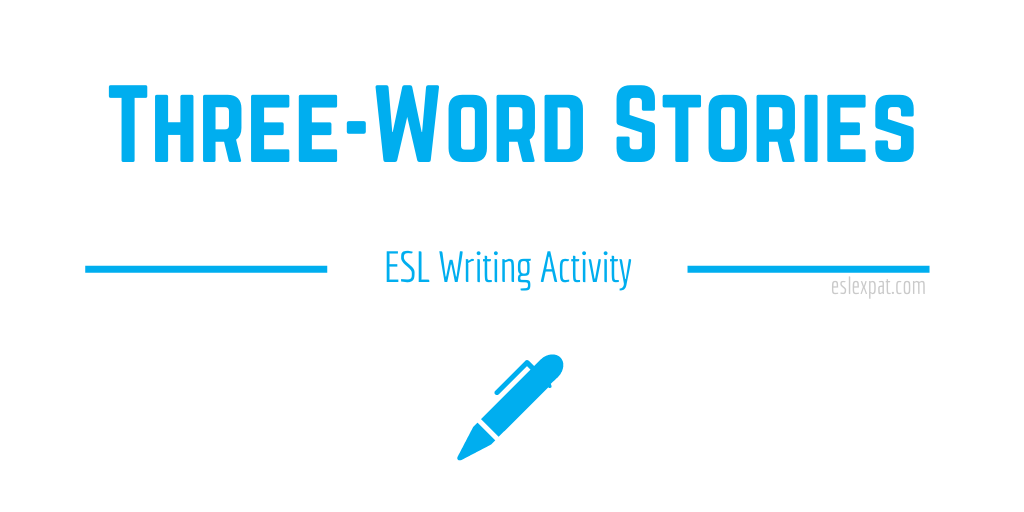 Three-Word Stories ESL Activity Preparation:
Minimal preparation is required for this activity. Before class starts, you can come up with three words to begin an example of a short story.
Three-Word Stories ESL Activity Guidelines:
At the start of class, explain the concept of the game to the students and select two volunteers to participate.
Start the story with your three words, then a student continues the story with their three words.
The last student volunteer proceeds with their three words.
As the story progresses, write everything that is said on the board so that it is easy to follow.
Here is an example of how the story might develop from start to finish:
Teacher: I went walking…
Student A: in the park…
Student B: and fed birds.
Teacher: After feeding them,…
Student A: I decided to…
Student B: go home and.
Teacher: sleep on my…
Student A: sofa in the…
Student B: living room. It…
Teacher: was comfortable, but…
Student A: my phone rang…
Student B: and it was…
Teacher: a telemarketer who…
Student A: wanted to sell…
Student B: me some garbage.
This funny example should give the class a clear understanding of how to play the game.
Next, divide the class into small groups. The groups should create their own three-word stories. Again, every student takes turns saying three words followed by the next student in their group.
For the writing task, assign one student in each group to be the designated writer. They should listen carefully to their classmates' dialogue and write out the story as it progresses. By the end, they should have a short script highlighting everything.
After about five minutes, have the students change roles so that everyone gets a chance to be the writer.
Give the students about 20 minutes to complete their stories. Make sure that everyone in each group gets the opportunity to listen and write.
When finished, they can practice acting out the entire story with their group. If time permits, they can perform the story in front of the whole class at the end.
Follow-Up ESL Activities:
To review vocabulary from their scripts, try playing a quick game of No Harm, No Vowel or the Prepositions Vocabulary Game.
More ESL Writing Activities for Kids and Adults:
View the ESL writing activities archive.
Related ESL Resources Online: