This activity is an adaptation from a game featured on Hollywood Game Night. While playing this game, students must guess words that have had all of their vowels removed. It is a fun activity for reviewing vocabulary and for word recognition.
Student Level: Beginner, Intermediate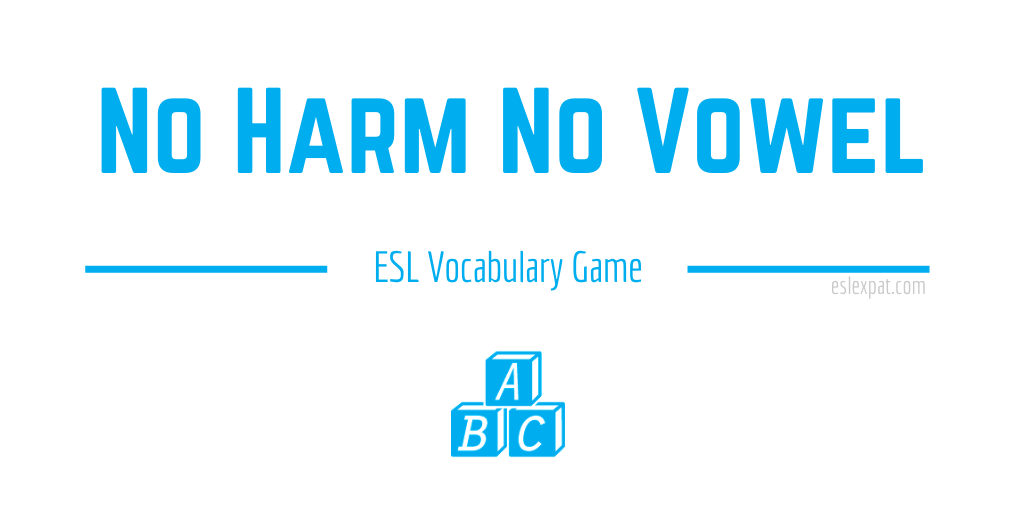 No Harm No Vowel ESL Game Preparation:
Think of a few words (with vowels missing) to start the game with. You may also want to focus on a specific theme or choose words that they have learned recently in a previous lesson.
No Harm No Vowel ESL Game Guidelines:
To start, write five words on the board with all of their vowels missing. Also, give the students a hint if they need extra help.
In this example, all of these words are types of fruit:
1. ppl
2. bnn
3. cntlp
4. grpfrt
5. rng
Tell them that the first answer is "apple" and write in the missing vowels.
Then, continue eliciting the remaining fruit and reveal the vowels.
View the answers on the next page.
1. apple
2. banana
3. cantaloupe
4. grapefruit
5. orange
After outlining the example, put the students into teams. Give each team a few minutes to create their own word lists. If you like, tell them to base the words on a specific theme, such as new vocabulary, famous landmarks, countries, or movie titles, etc.
Each team should use one word list as their answer key and another list with the vocabulary with the missing vowels.
After creating the word lists, begin the game.
Teams take turns challenging each other with words from their list. Set a time limit per word of approximately 30 seconds. If they guess the word and fill in the missing vowels under 30 seconds, then they score a point.
The team with the most points at the end of the game wins.
To increase the difficulty of the activity, get the students to create a sentence with the words after the vowels are revealed. To make it even more interactive, students could ask a question using the words and have one of their teammates respond for bonus points.
Follow-Up ESL Activities:
If you have time remaining in class, try expanding on the vocabulary review with other fun ESL games like Who Wants to Be a Millionaire or Cards Against Humanity.
More ESL Vocabulary Games for Kids and Adults:
View the ESL vocabulary games archive.
Related ESL Resources Online: