This activity is appropriate for all ages and levels. By using the Family Tree ESL Activity in class, students can develop their descriptive writing skills. You can easily adjust the level of difficulty depending on your context.
Student Level: Beginner, Intermediate, Advanced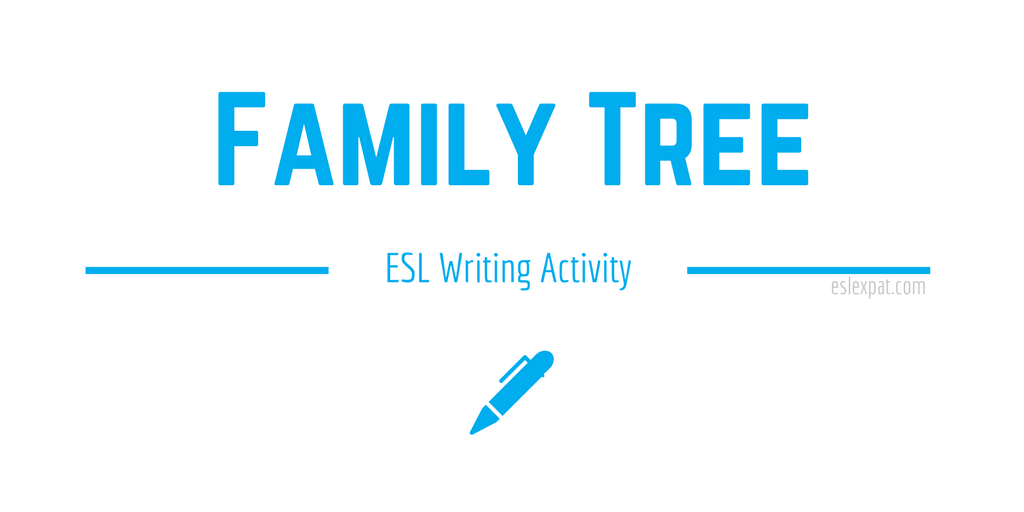 Family Tree ESL Activity Preparation:
For this activity, all that you need is some lined paper for the students to write on. If you want, you could also prepare a list of vocabulary that they could use for their writing. Find terms related to family and any other vocabulary that you would like to reinforce.
Family Tree ESL Activity Guidelines:
First, start the class off with a discussion about family. You may want to begin by describing your own family and relatives. Go back a generation or two. Try to elaborate on some personal characteristics, personalities, and appearances of some people in your family. Be as descriptive as you can to set a good example to follow.
You could write down a few key terms or vocabulary on the board. Students can refer to the words in their conversations.
Next, put the students into pairs or groups and set a time limit for their discussion. After they have discussed their families for a few minutes, lead feedback.
For the next stage, draw a family tree on the board of your family. On the other hand, you could draw the family of a student volunteer. Having a visual aid such as this can help with the writing process.
Beside the family tree, you could also provide a rough outline of the writing outline. If the class is lower level, writing a few simple sentences would work well. However, if they are more advanced, you could do a full paragraph or even a short essay.
When you finish the family tree diagram and the writing outline on the board, hand out the lined paper to the class. Of course, depending on your situation, they may already have paper or notebooks prepared.
Assign the writing exercise. Tell them to create a similar family tree on the paper along with their outline. Stressing the importance of an outline for longer writing assignments is helpful.
Give them anywhere from ten to twenty minutes to complete the task. If you are cramped for time, then they could hand it in for the next class. Monitor their progress as they write in class. Make note of any problems or repetitive mistakes in their writing.
When they have finished, you may want to have them do some peer editing in pairs.
Finally, you can give the class some feedback on the writing errors that you noticed on the board. They can hand in their writing to you if you want to give more detailed advice for how they can improve their assignments.
Follow-Up ESL Activities:
Time permitting, you could end the class with a fun vocabulary game. The Hot Seat ESL Game is great for all ages. If you would like to practice idioms and expressions, check out our searchable list of common English idioms and phrases.
More ESL Writing Activities for Kids and Adults:
View the writing activities archive.
Related ESL Resources Online: