⋯  By Heidi Brumbaugh, PhD ⋯
A blended classroom is a learning environment that incorporates technology in a supporting role.
Vocab Victor is a vocabulary-building app for English language learners.
Even though I have dedicated my career to developing software to help students learn languages, I don't believe that computers can ever replace teachers. Rather, I think that software and teachers have different, and at times complimentary strengths. I strive to identify uses for technology that leverage these strengths, with the heartfelt hope that doing so will free up more time for English language teachers such as yourself to do what you do best.
What teachers are good at
Teachers are good at so many, many things. You make personal connections to your students that encourage and inspire them to spark learning. In a language learning classroom, you can work at each student's level to elicit productive language. You rely on a wealth of experience and creativity to set up your classroom, to offer materials, and to use your class time to optimal advantage for your students. Depending on your students' age and phase of life, you are also a wellspring of emotional support to your charges.
What computers are good at
Computers are by nature calculating machines. Their main strengths include doing complex calculations quickly, keeping track of things, and doing repetitive tasks while not getting bored. Ever. Vocab Victor leverages these strengths to:
Keep track of which words your students are learning.

For each learner, Victor maintains a list of "Seen" words – words which are currently being learned, and "Learned" words – words which have been correctly matched a number of times.
Students can visit our "Progress Room" to see their words in each category and to study them by viewing learner-friendly definitions.

Drill, not kill, by repeating Seen words across different games, each teaching different types of associations or word knowledge. Repetion is key to memorization. The problem? Flashcards and worksheets are boring. The solution? Games are fun.
Constantly assess your students' ability level to introduce new words that are best for them because the words are:

At the appropriate difficulty level
Useful to the learner in their language development
Want to learn more about how Vocab Victor teaches vocabulary?
Check out our teacher's page or my video describing the pedagogy and linguistics underlying the app. Finally, learn more about our new word lists feature.
Words matter
A strong vocabulary helps your students in all four language skills: reading, writing, listening, and speaking. It will help them communicate their ideas even when their grammar skills aren't perfect. According to vocabulary expert Paul Nation, an ideal language classroom is made up of four equally balanced strands:
Meaning-focused input
Form-focused instruction
Meaning-focused output
Fluency development
Vocab Victor's strength is form-focused instruction; specifically, the direct teaching of words and their meanings.
Here are a few more vocabulary resources for your classroom:
Victor and you
Your students may ask you, which app should I use to practice English? Which words should I learn? How do I build my vocabulary? Vocab Victor is a great recommendation you can offer your students to use outside class. Here are some further suggestions for integrating the app in the classroom.
Monitor your students' progress through our leaderboard. Registered students may enter a nickname in their profile, which is globally visible on the leaderboard inside the app. If you require students to register and tell you these nicknames, you can check any time to see if they are using the app and progressing.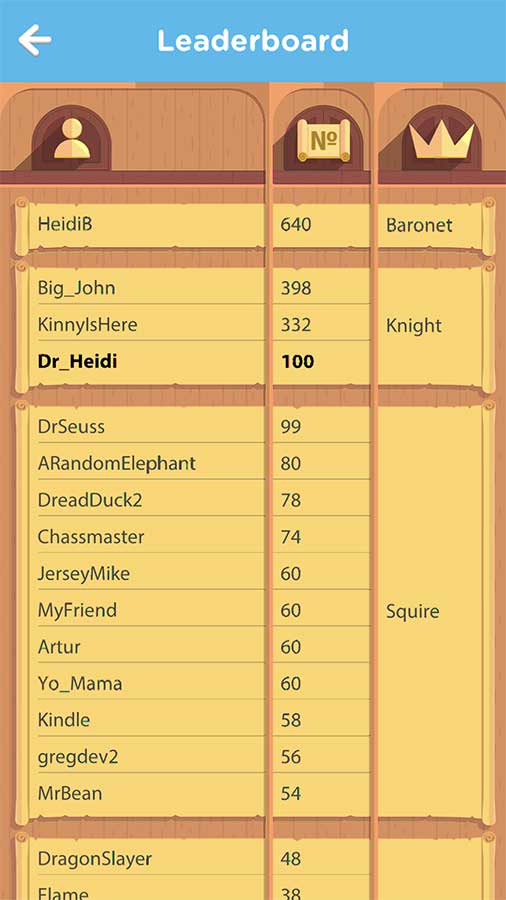 As players learn words, their in-game "rank" increases. They start as a lowly peasant and can grow to be a knight, baron, or even king or emperor! You could assign your students target ranks for each week and then confirm their progress through the leaderboard or a screenshot.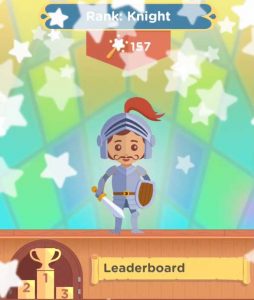 Assign our word lists to your students. We have recently incorporated four linguist-created word lists into our app. (These have been broken into smaller, manageable lists of about 30 words each.)

The New General Service List (NGSL) is a great list for beginning and intermediate-level students. It provides vocabulary that will be frequently encountered. The NGSL words should be mastered before the other lists!
The New Academic Word List (NAWL) provides words that will help your students succeed in school.
The Business Service List (BSL) includes words frequently found in business contexts.
The TOEIC list helps students prepare for the TOEIC and other tests.

Students can buy these lists using our in-game currency ("charms") which they can win by playing games, earn by watching ads, or buy directly as an in-app purchase. Once the list is purchased, the words in that list will appear in the app's games until they are learned.
| | |
| --- | --- |
| | |
Students can track their word list learning progress in the Progress Room. They can submit a screenshot to you so that you can monitor their work.
You can assign the entire class specific lists. Another option is to send your students to our Word List Chooser assessment tool, which is a very quick test (four or five questions) which will tell them which specific list is best for their language level.
The Vocab Victor team is currently developing a teacher's page that will let you develop your own lists, assign them to students, monitor progress and even create a class leaderboard for only your students. Join our mailing list to be the first to learn when this tool is available.
How you choose to incorporate this app into your class of course depends on your goals for the class and your personal preference. If your classroom focus is conversation and grammar, Vocab Victor might best help your students as a supplementary, outside assignment or recommendation.
If you have specific vocabulary goals for your class, Vocab Victor could play a central role in helping your students learn their words. Students could compete to see who could achieve the highest rank.
Are you using Vocab Victor in your classroom?
Please feel free to send me feedback! We are continually developing the app and want to make it as helpful to you and your students as possible!
About Heidi Brumbaugh
Heidi is the developer of the Vocab Victor word learning app. She received her PhD in Linguistics from Simon Fraser University in 2015, with a focus on vocabulary and Computer Assisted Language Learning. She dreams of one day banishing flashcards to the shoebox of history. Follow her vocabulary blog!
Are you interested in teaching English?
Browse the new English teaching jobs on the job board.
Have you taught English abroad?
Submit your story and it could get featured in our next blog publication.
Read more stories about teaching English abroad on the blog.
More Blog Articles About Teaching and Learning English: