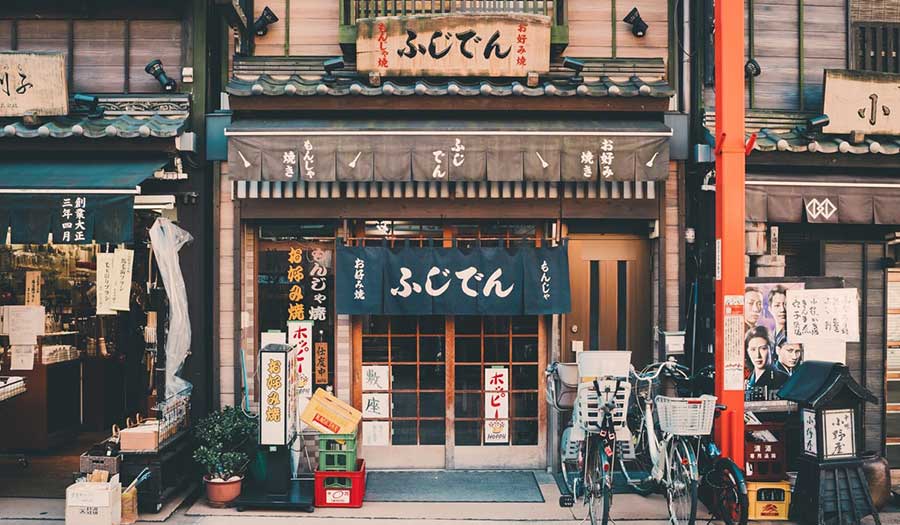 Teach English In Japan Without A Degree
Japan is one of the most popular destinations for English teachers in Asia. With the high standard of living and unique and interesting culture, great infrastructure and delicious food, it makes sense that everyone and their dog wants to teach here. 
Unfortunately, being a very organized and rule-abiding society, there are strict requirements enforced by the Japanese government for foreign English teachers. In Japan, the two main ways to get a teaching job is to apply through the government program for public schools, known as the JET programme, or to apply to a job directly to a school or recruiting company such as Gaba or Interac. 
One of the main requirements for the JET programme is to have a Bachelor's degree, so that's out of the picture. The next obvious thing would be to apply directly to schools and companies. Many of these schools would happily hire you without a degree if you can prove your ability and are likeable.
The issue is that they need to consider degree holders above you because they will not be able to issue you a work visa to legally teach in Japan because of the government's requirement for foreign English teachers to have a Bachelor's degree. The degree can be in any subject and does not have to be an education or English degree. 
If you are an experienced teacher with 5-10 years experience, you might be exempt from needing a degree for the work permit. This is something many schools don't know. If you fall into this category, you should highlight your experience when applying for a job and ask if the school could apply for your exemption. You should have proof of past teaching experience, such as reference letters and contact details ready.
How To Teach English In Japan Without A Degree
Not having a degree prevents you from getting a work permit to teach in Japan, so this might make things a bit more difficult. However, there are a few options you can consider that don't require a work permit. 
Many teachers have reached out to us about teaching in Japan without a degree, before enrolling in a university course in their home countries. We understand that at a young age no one really knows what they want to do yet so just hopping on the next plane to Japan sounds like a good idea. The only problem is that it's becoming increasingly difficult to get a work permit without a degree, so getting one will make your life so much simpler. 
In other cases, getting a degree is just out of the question. Whether it be because of time, money or lack of interest, it just is. Maybe you don't know if teaching is something you would like and you'd just like to dip your toes into the water. Here are the options you can consider:
1. Working on a Tourist Visa (90 days x 2 = 180 days)
2. Working on a Student Visa (Arranged by the school)

3. Working on a Working Holiday Visa (1 year, 1 time, not extendable)

4. Working on a Spousal Visa

5. Working on a Japanese Passport    
If you have a Japanese passport, no need to read further, you can live and work in Japan without needing a work permit. If you are married to a Japanese national, you can get a spousal visa. With that comes the right to work in Japan so you can easily get a teaching job without a degree. Although employers might prefer candidates with a degree, if you are a good teacher they will be happy to hire you because they won't have any paperwork to deal with. 
Most nationalities are given 90-day tourist visa on arrival in Japan. You are able to leave the country and come back for another 90 days. So this gives you a total of 180 days a year. This is definitely not the best option to teach in Japan but you could get a job at a language school and earn some money and travel around Japan for 3 to 6 months. 
Teachers have also reported that some work on Student Visas provided by the language school they work at. Some study Japanese language and others are just put into the system, not studying anything, just to get the Student Visa while working full time for the school. Others are studying at Japanese universities and teaching part time at language schools to earn some extra money.
We have to add a disclaimer here that it is technically not legal to work on a tourist or student visa so we don't recommend it, but we do know that it does happen, so we will leave the choice to you. If you prefer a safer approach you should consider the Working Holiday Visa.
Teach English In Japan On The Working Holiday Visa
One of the best ways to teach in Japan without a degree is with Japan's Working Holiday Visa. This is a great way to teach if you want to get a taste of it before deciding if it's something you want to commit to. Even if you want to live in Japan, but don't know what to do, teaching English on the Working Holiday Visa will help get you settled and learn about the country and opportunities you can explore later.
The primary purpose of the Working Holiday Visa is to travel Japan while working to earn enough money to support your travels. It's not meant to be used for teaching full time, but it's a great option to get the feel of teaching and living in Japan for a year. Once the year is up you can decide if this is something you would like to do full time.
What Are The Requirements For The Working Holiday Visa?
Not everyone is eligible for the Working holiday visa as there are a few requirements:
1. You should be a citizen of one of the following countries: Australia, New Zealand, Canada, the Republic of Korea, the United Kingdom, Ireland, Denmark, Norway, Portugal, Poland, Slovakia, Hungary, Spain, Argentina, Chile, Iceland, Czech or Lithuania, Hong Kong, Taiwan.
2. You should be living in your country of nationality.
3. Be between the ages 18-30, 18-25 if you are from Australia, Canada or the Republic of Korea, or 18-26 if you are from Iceland.
4. Not being accompanied by dependents or children.
5. You need to have a valid passport as well as a return flight ticket or enough money to purchase one.
6. You should have some money to initially support yourself in Japan.
7. Being in good health.
8. You have never been issued a Working Holiday Visa before.
Applying For Teaching Jobs In Japan Without A Degree
Now that you know how you can teach in Japan, there are a few things you need to consider when applying to jobs. When you send in your CV, you will be competing with many other candidates. Many of those candidates will have degrees. Some will have advanced degrees such as a Master's, and others will have a degree in Education or English. Employers usually skim resumes, looking for things such as:
1. Are you a native English speaker?
2. Do you have a degree?
3. Is the degree subject English or Education?
4. Do you have teaching experience? Was it in Japan?
5. Do you have a teaching certificate (TEFL, TESOL, CELTA)?
6. Do you seem like a friendly, energetic and positive person?
If you don't have a degree, you will want to check as many of the other boxes as possible and highlight that. Make it the first thing they see on your CV. Send a short video showcasing your teaching ability and show them that your accent is clear and easy to understand. If you are looking for a more part time option you can also consider working as an English tutor in person or online.
Teaching English Privately To Japanese Students
If getting a full-time job is off the table or you want something more casual you can always work as a private tutor. There is a huge demand English language tutors, especially in the big cities like Tokyo. As a private tutor, you can meet up with your students at their home or a local café. You would set your own rate and book as many students as you want. This option gives you a lot more flexibility, but also lacks stability.
As they say different horses, different courses, you will know best what you are looking for. You can actually earn more money tutoring privately than working at a language school because you cut out the middle man, but it takes time to build up a reputation and find regular students. 
Thanks to the growth of online English teaching it's now possible to work as an English teacher from the comfort of your home. Find a company that you like, make sure you have the right equipment, pass an interview, and you are good to go!
Are you interested in teaching English in Japan?
Browse English teaching jobs in Japan on the job board.
Have you taught English abroad?
Submit your story and it could get featured in our next blog publication.
Read more stories about teaching English abroad on the blog.
Blog Articles About Teaching English in Japan: