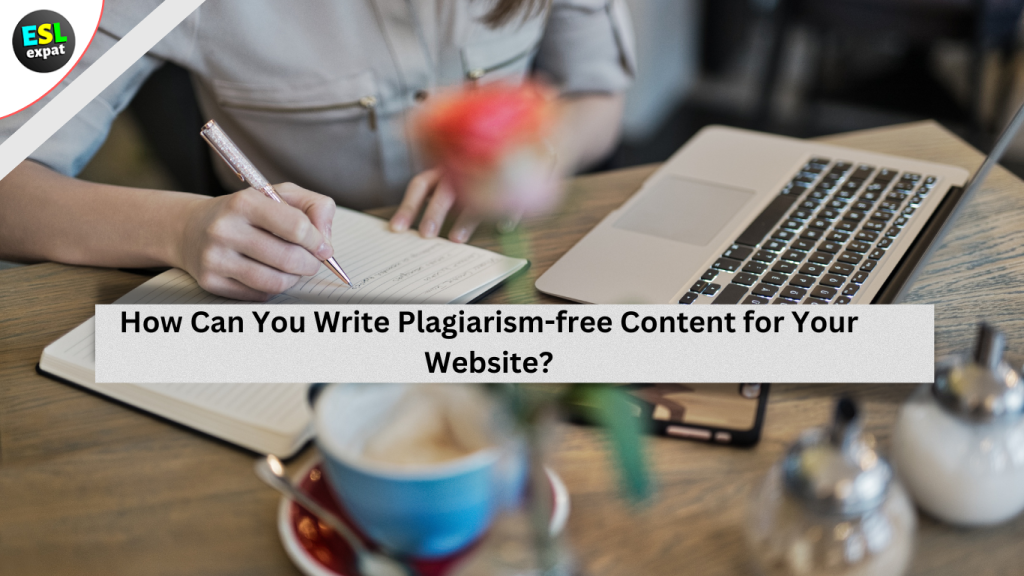 Search engines require you to write quality content that provides better readability and plagiarism-free content. Such a condition makes it mandatory for marketers or bloggers to publish unique content about their products or services.
But due to the similarity of generic information and high competition, there are significant chances of committing plagiarism in the website content. Search engines penalize copied content by reducing the page ranking or delisting it. That's why it is necessary to avoid plagiarism entirely.
One effective approach to avoiding plagiarism in website content writing is to take the help of the paraphrasing technique.
Bloggers and marketers can apply this technique to prevent plagiarism by writing generic or formal content with a more creative set of words. In this way, the content becomes considerably unique.
But there is more to writing plagiarism-free content than just paraphrasing. In this article, we will guide you on how to write plagiarism-free content for your website.
Steps to Write Plagiarism-free Content
Here we have mentioned a few tips to help you write plagiarism-free content. These tips will help you in various ways.
Choose a Distinctive Topic
Choosing the right title for your topic is necessary. The extent of plagiarism heavily depends on the niche you are targeting or the topic you choose to write about.
For example, if you are choosing a topic that you lack the proper knowledge of, then you will inevitably end up copying generic definitions from other sources, which can lead to plagiarism. Therefore, writing about a topic that meets your interest is recommended.
Chances of plagiarism are slim for a topic that you know more about compared to the topic you have to research first.
Research Properly
Before writing anything, it is crucial to conduct proper research. Plagiarism often occurs due to a lack of research.
When you don't have enough knowledge, you tend to repeat the same information in your different articles or directly copy the content. Such an act is also known as direct plagiarism, which can lead to copyright infringement under extreme scenarios.
Therefore, studying a topic from multiple sources is recommended to gain maximum knowledge about a specific domain. In this way, you can dodge the challenge of duplication by applying the knowledge gathered from different areas in one place.
And that is why researching a specific topic while writing content for different websites is mandatory. For example, if you promote your products or services by guest posting, you must ensure that each platform's published information is unique.
Use Quotations
The quotations method is a legitimate way to use the words of others and simultaneously avoid plagiarism in your content. Quotations work as a supporting element for writers as they add value to the content discussed within the content.
While adding quotations to your content, follow the proper structure that makes the quotation distinctive from the rest of the content.
Make sure to add quotation marks at the beginning and the end of the quotation. Keep the quotes short. It is recommended never to use more than a 50-word block in a quotation.
Try not to add quotations right at the beginning. You can feature quotes in the middle of the page to as that breaks up the text visually and looks good. Also, mention the author's name or the publication name at the end of the quotation as a reference to its original writer.
Modify the Structure
The final step that you can take to avoid plagiarism is to modify the structure of the content. You can play with the structure of the content by rearranging it in different ways.
For example, you can convert active voice into passive voice to maintain relevancy with the origin of the context. However, make sure not to add passive voice in excess. Otherwise, it might ruin the readability of the content.
The modification of structure is not only limited to active and passive voice. You can also use "feature tables" to present your content more appropriately.
For example, if the features of a product are written in the form of a paragraph, you can present them in the form of a table. This way, you can avoid plagiarism and make statistical information more readable for the audience.
Check for Plagiarism
Even if you do all of the above, there is still a fair chance that your content has accidental plagiarism. Since it is next to impossible to check for plagiarism by yourself, as billions of web pages are published online, you need to rely on a tool.
Therefore, running your content through a plagiarism detector is recommended so you can generate a detailed report about the extent of uniqueness and similarity in your content.
A plagiarism detector can compare your content with a ton of published web content in just a few seconds. It also provides a detailed summary of links that have content similar to yours. You can also attach the plagiarism report as evidence of quality work.
Conclusion
Proficiency in both reading and writing is required to create unique content. Only then can writers make the content unique without ruining the flow of the readability.
Each type of writing is different, which makes the writing guidelines and approach different for every niche. But certain approaches work for most…if not all of them.
This article featured several ways of writing plagiarism-free content for a website that can be applied to most niches. Each method followed a specific approach to maintain the quality of content.
We hope this article was helpful for you in understanding how to write unique content without deviating from the original meaning of the content.
Do you have a story about writing, teaching, or learning English?
Submit your story and it could get featured in our next blog publication.
Read more stories on the blog.
Related Blog Articles: