Plagiarism is considered an immoral activity across the world.
Whether the plagiarized content is related to academics or industry, it will be rejected by the audience, and the person behind it will face the consequences.
At the same time, students involved in plagiarism face repercussions like low grades or rustication, businesses that serve their audience with copied content witness lower traffic, a sharp decline in revenue, and penalties on their websites from search engines.
The best way to avoid all the situations mentioned above is to ensure the content you are working on is unique and free of plagiarism, whether accidental or intentional.
To make your content plagiarism-free, you must identify the duplicate words, sentences, or paragraphs in it and then eliminate those parts.
It is only possible when you use an advanced AI-based plagiarism checker for this purpose.
However, only some students or businesses (especially ones who have just stepped into the market) can afford subscriptions to costly tools that are generally used to spot plagiarism in the content.
It is worth mentioning that there are many free alternatives to those costly tools.
Being free doesn't make them less efficient or effective.
We have listed some free plagiarism checkers available online to help you.
Read on to know more.
Plagiarism Checker – SmallSEOTools
SmallSEOTools is a renowned website with millions of monthly active users who regularly use various valuable tools offered by it.
Plagiarism detector is also a part of its portfolio and gets appreciation from users worldwide because of its accurate plagiarism reports and massive database.
Average users who don't need to check plagiarism frequently can also use it for free.
It allows them to check plagiarism of content containing up to 1000 words in one go.
You can use this plagiarism checker online and find duplication in the content on any device without worrying about compatibility issues.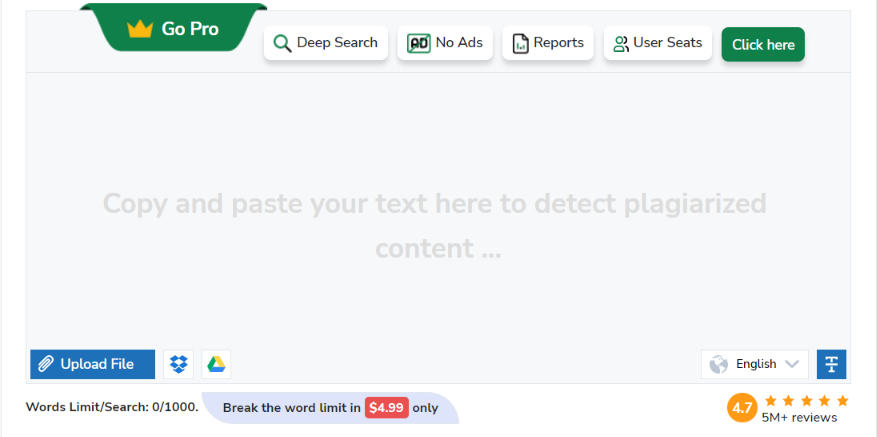 It also offers a friendly interface to make its use easier for people of various demographics and professions.
Here are some standout features of this tool.
You can copy/paste content or upload the file from local or cloud storage to check for plagiarism.
Generate citations that can be used to help students organize their writing.
Allows you to check content plagiarism on a webpage by providing the URL.
You can exclude a specific URL while checking plagiarism through this tool.
Allows you to check plagiarism of content written in multiple languages.
You can download the plagiarism report generated by this tool in PDF format.
Plagiarism Detector – Quetext
Another effective plagiarism checker that has made its name lately is the one offered by Quetext.
While this tool offers multiple subscription packages, casual users can also use it for free.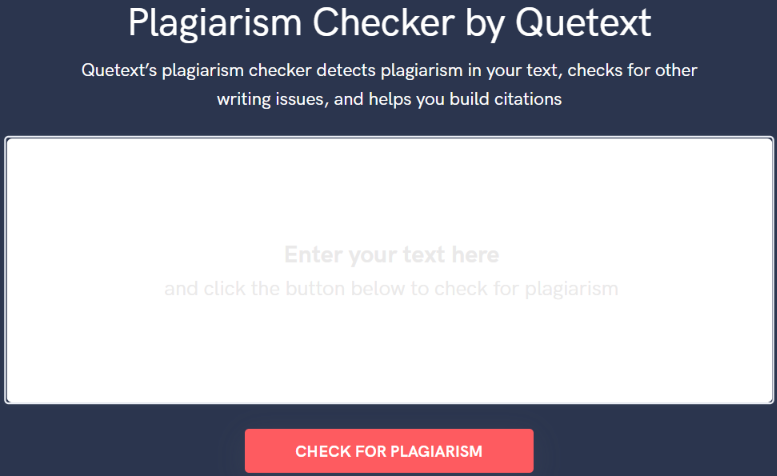 However, the allowed word limit for one go is just 500 words.
Moreover, it takes a significant time to process the content and deliver results. Still, it is used by hundreds of thousands of users worldwide.
Here are some worth mentioning features of this efficient plagiarism detector
It makes use of Deep Search technology to deliver accurate results.
Generates citations to help students in sorting their academic write-ups.
Assists citations by finding sources.
Allows bulk file upload; however, this feature is only for premium users.
Online Plagiarism Checker – SearchEngineReports
Search Engine Reports is known as a helpful platform that was initiated to help digital marketers, especially SEOs.
However, over time it became a famous platform that caters to the needs of all kinds of users, including students.
The plagiarism checker by SearchEngineReports is also an efficient tool.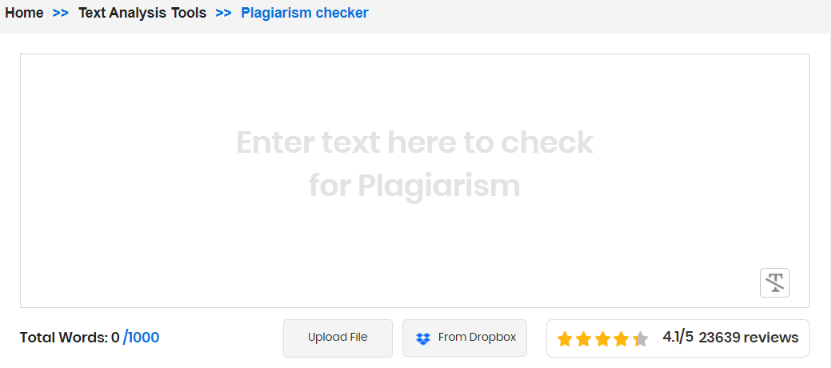 Users can also use it for free. Compatibility with all kinds of devices and a friendly interface makes it the right choice for many users.
Here are some features of this tool.
Upload files from Local storage or Dropbox to check for plagiarism.
Capable of checking plagiarism in the content of a page with a given URL.
Allows you to exclude bulk URLs while checking plagiarism.
Free plagiarism checks for content of up to 1000 words.
Supports multiple languages.
Plagiarism Tool – Editpad
The tool offered by this website to check plagiarism online deserves its spot in our list because it is only meant to help people.
You can check the content of 1000 words in one go for free with the help of this tool.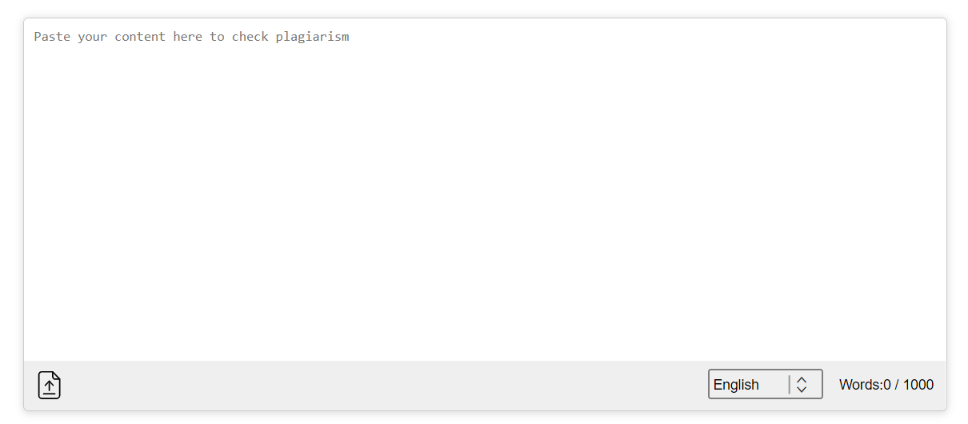 Moreover, it offers a convenient UI (user interface) for its users, which makes it feasible for them to check for plagiarism in any type of content quickly.
Here are some standout features of this tool that will help you understand its usefulness. Read on to know more.
Supports multiple text file formats.
Shows result in percentage to make it easier for users to find plagiarism in content.
Supports multiple commonly used languages around the world.
Shows sources of matching content.
Plagiarism Detector – DupliChecker
DupliChecker is a well-known platform recognized by millions worldwide because of its valuable tools.
Most tools offered by this platform are free to use.
The plagiarism checker offered by this platform is also free to use if you want to check plagiarism in the content of up to 1000 words in one go.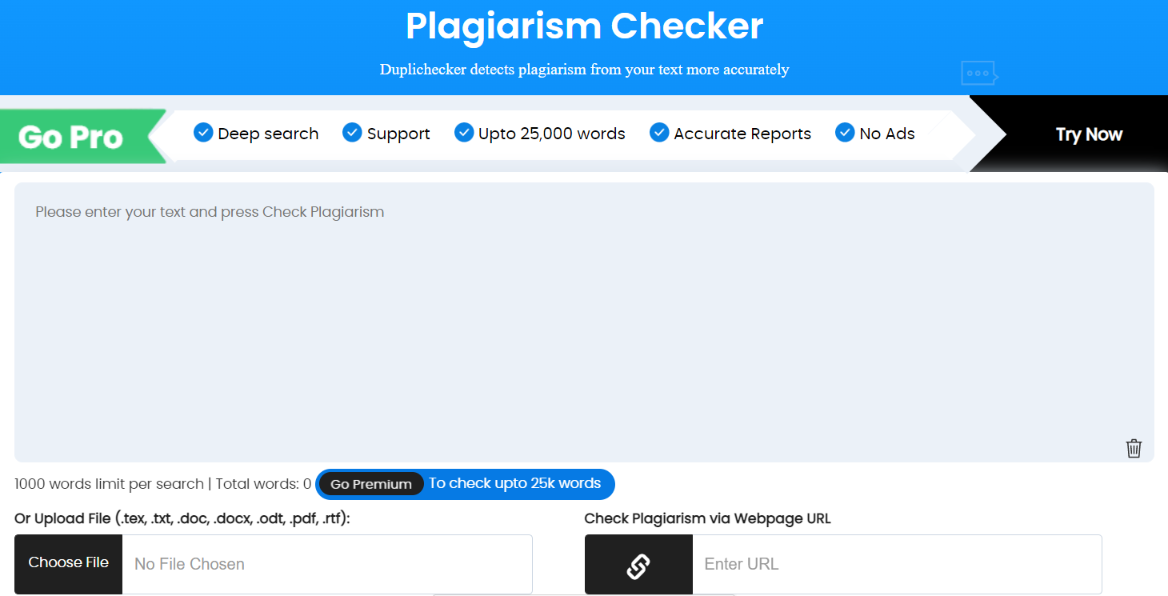 You can also pay for subscriptions if you want to use the tool regularly to check the content with larger word counts.
Here are some features of this efficient tool.
AI technology enables this tool to process content and deliver results faster.
Multilingual support to help non-English users.
Highlights duplicate content to make it easier for users to spot plagiarism.
Supports multiple file formats.
Shows results in percentage for easier understanding.
Do you have a story about writing, teaching, or learning English?
Submit your story and it could get featured in our next blog publication.
Read more stories on the blog.
Related Blog Articles: