Here is a TED Talk ESL activity that will help improve students listening skills and get them talking about interesting topics in the classroom.
Student Level: Intermediate, Advanced

Age Group:
Adults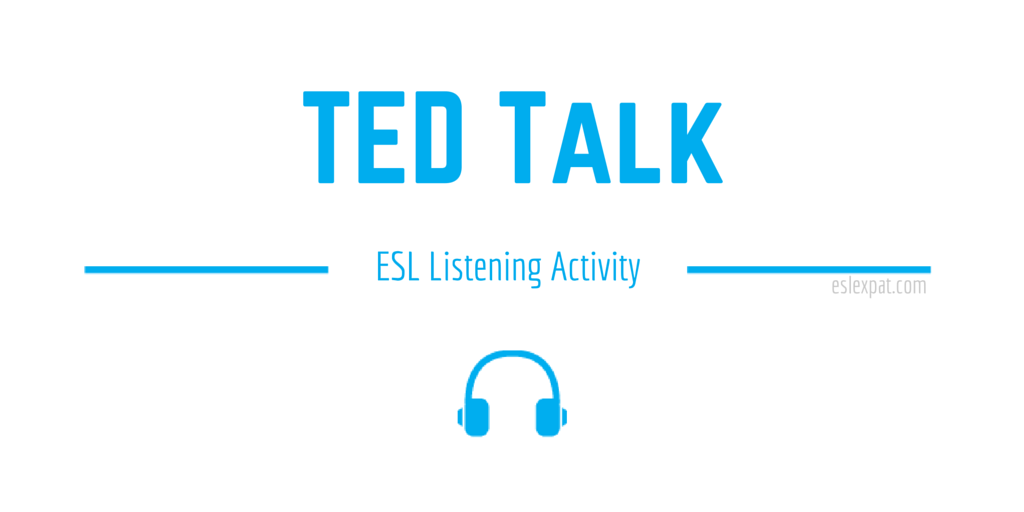 TED Talk ESL Activity Preparation:
First, find a TED Talk topic related to your lesson by doing a search on TED.com. You can use their search filters on the website to find an appropriate topic and duration for the video.
TED Talk ESL Activity Guidelines:
After selecting a video for the class, you may want to pre-teach some vocabulary from the talk and familiarize the students with any difficult words. The TED website is especially useful since many of the videos have transcripts that you can use to select the vocabulary that needs extra explanation.
In addition, you may also want to print off the transcripts that they provide and use them as follow-up activities. The content is so versatile for improving listening, speaking, reading, writing and other skills.
Introduce the video. Do some pre-discussion about the video's topic.
Then, have the students discuss in groups and lead feedback. Encourage them to talk about their opinions in detail and have them think critically about the topic before watching the video.
Next, tell the students to pay attention to the video and to be prepared to answer a few questions related to some general points that the speaker is going to make. They can take notes if they wish.
Play the first few minutes of the video. Write some questions down on some paper as you watch. You can prepare the questions beforehand if you wish, but it isn't necessary since it may help to model the task to demonstrate to the students what they will be doing in the next stages.
Stop the video after about 2 minutes. Write the questions that you created on the board or simply ask the students directly. They can discuss the questions in groups or pairs then lead feedback.
After the first round of questions and answers, tell the students that they are going to watch the next few minutes of the video. As they are watching, they should create some questions related to what they have seen or heard on the video.
Un-pause the video and have them create their questions.
Stop the video again. The students can ask their questions in their pairs or groups.
Finally, lead feedback and repeat the tasks again until the video is completed.
Follow-Up ESL Activities:
To wrap up the TED Talk listening activity, have the students discuss the topics covered in the presentation further. They can express their opinions in groups.
If there is enough time remaining in class, they could do a written synopsis of the TED talk and give their opinions about it in writing. If you want to focus on improving students' description in writing, try the Five Senses Writing Activity as highlighted in our writing activities section.
View more listening activities.
View this activity on ESL Expat's YouTube Channel:
Related ESL Resources Online: