Have you taught English abroad?
Submit your story to be featured on our blog.
ESL Expat's blog section features a collection of stories from people who have taught English in various countries around the world. The stories highlight the positive and negative aspects of working in different locations based on personal experiences. Other topics are covered as well.
Other Ideas for Guest Posts
In addition to the stories, we will also accept articles that outline tips for finding jobs, teaching, living and traveling in each country. If you are interested in contributing something based on these other topics, please send us a message via the contact form.
Stories from Asia, Europe, and Elsewhere
At the moment, we are looking for stories from teachers who have had experience working in Asia, Europe, and the other destinations listed below.
Japan
South Korea
China
Taiwan
Southeast Asia
The Middle East
Europe
Africa
North America
South America
Australia / Oceania
*Stories about teaching English online may also be submitted.
What are the benefits of submitting an article?
Writers can promote their own personal blogs, websites, and social media profiles at the end of the article. Featuring your article on our blog will drive traffic to your site and it will benefit your SEO. Plus, of course, you can add to your writing portfolio while reflecting on your experiences in Asia.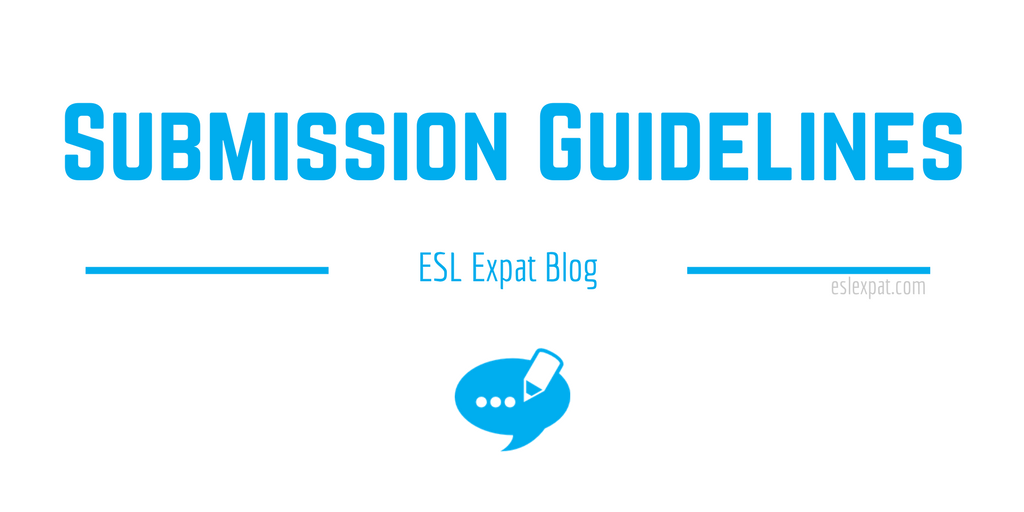 Submission Guidelines
For each article that is submitted, we would like teachers to follow these general guidelines outlined below in order to have their story featured on the website.
ARTICLE INTRODUCTION: Standard of Living
The introduction of the article will include some general information pertaining to the country, school, income, and living conditions.
Please submit the following details with your blog story:
Teaching Location (City and Country)
Type of Teaching Job (Kindergarten, Academy, Public School, University etc.)
Student Age Group (Kids, Teens, Adults etc.)
Monthly Salary (Local currency with USD equivalent)
Monthly Rent (Local currency with USD equivalent)
Living Arrangement (Shared housing, Single room, 2-bedroom apartment etc.)
Monthly Savings (Local currency with USD equivalent)
Contract Bonuses (Airfare, Severance Bonus, Lunches etc.)
ARTICLE BODY
In 500 words or more, teachers should describe three things that they liked and disliked about their experiences living in the country.
You could write anything about the experience at the school, living conditions, the culture, food, relationships, or anything else that left a lasting impression.
Remember to include a brief introduction to your story along with a conclusion to sum up your experience.
Article Length: 500 words or more
3 things that you liked
3 things that you disliked
Before writing anything, we suggest that you read some of the teachers' stories that are currently featured on the blog to get a better idea of what to include in your article with regards to content, structure, and style.
Furthermore, we highly recommend that you type your story using a word processor (like Word or Google Docs) on your computer first, then COPY/PASTE the article into the submission form after you have finished writing it.
Remember to proofread your writing before submitting your final draft.
TIP: Apps like Pro Writing Aid and Grammarly are helpful for editing your writing.
Please fill out the form below with the information, as outlined in the guidelines.
Article Submission Form